With the expertise of its installation partners, CPIGLOBAL has become a benchmark player in the installation business. Our relationship is governed by a charter:
COMMITMENTS OF CPIGLOBAL towards its partners:
Ensuring Fairness to Partners
Promote collaboration between CPIGLOBAL and its partners by making available tools developed by CPI in the monitoring of customer facilities (CPIRReport and its variants CPIMobile).
Reduce the risk of mutual dependencies between CPI and its partners
Integrate the concerns of partner business leaders into the relationship
Appreciate the total cost of purchases
COMMITMENTS OF INSTALLING PARTNERS to CPIGLOBAL and its customers:
Ensuring the quality of the installation
Carry out operations on time
Inform the conditions of realization
COMMON COMMITMENTS:
Adopt a responsible societal attitude
OUR ORGANIZATION
Staff:
• 10 Merchandising Experts, Project Managers, Logistics & Development Managers
• 160 partner installers spread over 12 regional bases in France, of which almost 50% hold electrical authorizations
Projects :
We design, manufacture, store and install:
• More than 200 projects per year
• More than 30,000 interventions per year (i.e. 15,000 Man Days), monitored and monitored in real time via CPIReport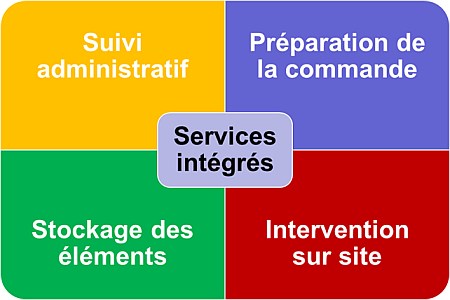 Administrative follow-up
• Reception and validation of the laying action
• Implementation of the preparation sheet
• Validation with the store of the installation date
• Triggering the procedure for accessing the store by the sealers
• Reporting Customer Validated Intervention Dates
• J-2 Final validation of our arrival at the store
Storage of items
Storage capacity
• 3.000 m² or +/- 5,000 pallets in Noisy le Grand
• 800 m²/regional base
• Picking area: 600 m² in Noisy Le Grand
"Sensitive" items stored in secure area on racks
Preparation of the order
• Reception of equipment at the Noisy-le-Grand warehouse on a referenced pallet.
• Inventory of equipment.
• Qualitative and quantitative control of equipment.
• Picking/preparation for shipping on basics.
• Inventory status tracking with feedback at the customer
• Order preparation, packing and palletizing.
• Departure preparation, labelling and delivery on a regional basis.
• Shipping on regional bases J-8
On-site intervention
• Setting up your products following a planogram provided
• Dismantling of furniture in place and left (unless otherwise directed) available to the POS
• Drafting of the report of the intervention
• Taking photos and embulating a completion sheet
Installation procedure
• J — 10: Validation of the installation date
• J — 2: Confirmation of POS intervention
• J: Installation with real-time validation on CPIReport
• J + 1: Operational Reporting
CPIREPORT
CPIreport is our online reporting site, dedicated to tracking:
• Field Audit
• Installation
• S.A.V.
We can upload as much information as you wish, and configure the fields to adapt CPIReport to your needs:
• Point of Sale Contact Information
• Description of the operations to be carried out
• Serial #
• Date of implementation
…
Our field team has a mobile version allowing them to upload real-time tracking data for your operations, adding photos and comments immediately.
You yourself have password access to your information from any computer, 24 hours a day.
• A search mode allows you to retrieve information about your current operations in a few clicks.
• A map mode allows you to locate your deployments and the status of their advances around the world.
• You can extract the data in Excel format.
• You can also enter your requests directly via the tool.